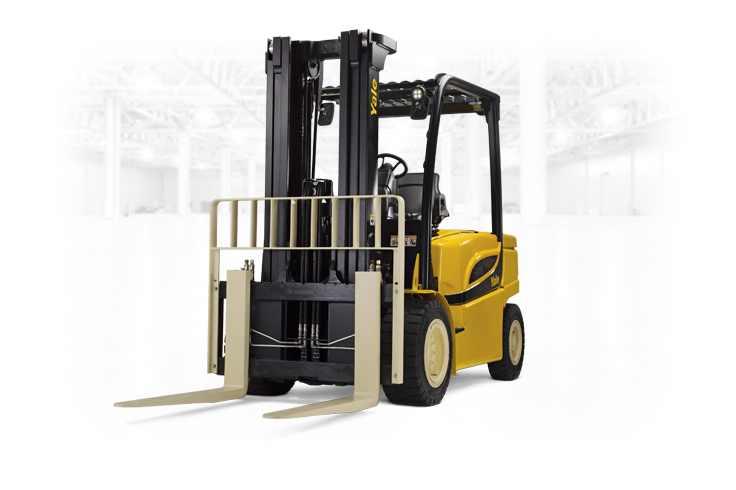 Operator friendly
Power and versatility
Count on it
Simple serviceability
Models: ERP080-120VM
Capacity: 8000-12000lbs
Load Weight: 12000lbs
Max Lift Height: 236
Environment: Indoor, Outdoors
Power: Electric
Primary Task: Lifting and Stacking, Towing
Auto Manufacturing
Beverage
Chemicals & Plastics
Food
Metals
Paper & Packaging
Details
Choose the ERP080-120VM for unparalleled performance in outdoor and indoor applications. With load capacities ranging from 8,000 to 12,000 pounds, these forklifts are built to tackle challenging tasks with ease.
Powered by a robust internal combustion engine, the ERP080-120VM offers exceptional performance and reliability, even in demanding environments. The ergonomic operator cabin ensures comfort during long shifts, enhancing productivity.
With an auto-deceleration system and a Continuous Stability System, operators will drive more safely and reduce brake wear while driving. This forklift truck's advanced maneuverability technology and intuitive control enhance performance and reduce operator fatigue.
Robust electric option for outdoor and indoor applications
The ERP080-120VM is versatile, configurable solution with the power to take on tasks historically reserved for ICE models and the benefits of an electric.
Equipment Type

4 Wheel Electric Forklift Trucks
Equipping operators for success keeps them productive all shift long.
Innovative Zero Turn radius steer axle and dual AC drive motors provide exceptional maneuverability in congested areas and narrow aisles
Continuous Stability System requires no maintenance and bolsters stability over uneven surfaces
Infinitely adjustable steering column with available telescopic adjustment and tilt memory
Strong drivability thanks to car-like feel of pneumatic tires and convenient pedal positioning
Auto-deceleration system helps reduce operator pressure on brakes
Optional Accutouch mini-levers provide low effort, tactile control over hydraulic functions
The power for tasks traditionally reserved for ICE models, while maintaining the benefits of electrification.
Standard Extended Shift feature allows longer run time between recharging
Increased loaded travel speeds and acceleration is possible with Extended Shift setting turned off
AC transistor hydraulic control enables precise load handling with greater efficiency and less noise
Multifunction display enables adjustment of customizable performance parameters to meet application needs
Optional "quick connect" rapid charge system simplifies charging operation through easy-access side-mounted port
Standard 80-volt electrical system
You need dependability, not downtime. The ERP-VM series uses industrial grade components and smart design choices for longlisting productivity and value.
AC motors eliminate brushes, which mean there are none to ever require service
Oil-cooled wet disc brakes and completely sealed from water and other contaminants, virtually eliminated brake maintenance
CANbus technology reduces wiring and related serviceable components
10-micron hydraulic filter captures 99.5% of hydraulic system debris
Thermal management system protects key components
Unitized frame and welded steel construction provide improved overall rigidity and protection of internal components
When maintenance is required, you need it done quickly and efficiently, so operators can get back to work. The ERP-VM is designed just for that - and to require less service to begin with.
Easily removable floor plates and rear-hinged hood for easy access to serviceable components
Lift out floor plates require no tools for quick service checks
Intellix Vehicle System Manager continuously monitors and controls all major truck functions
Simplified wire and hose routing, clearly numbered wires and sealed connectors to make service tasks easier
---