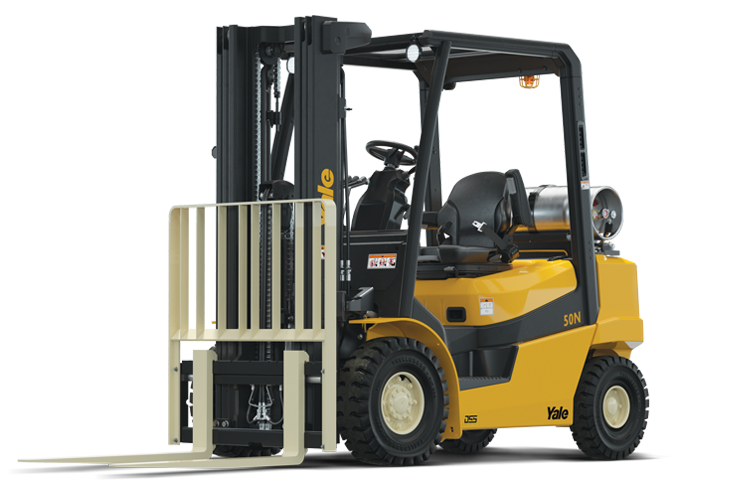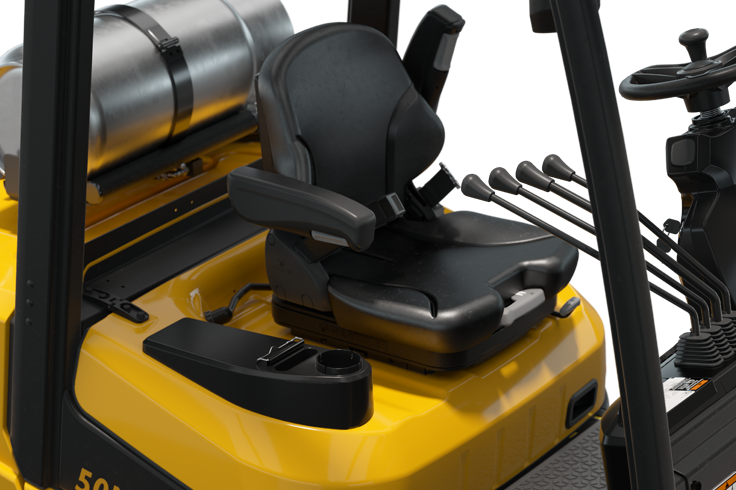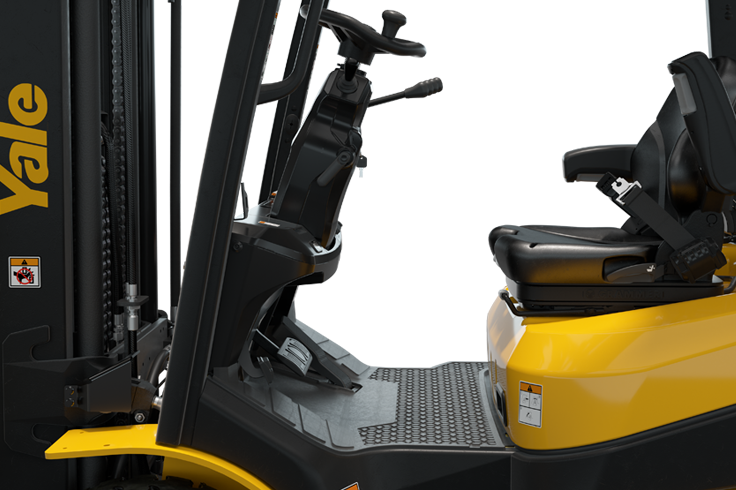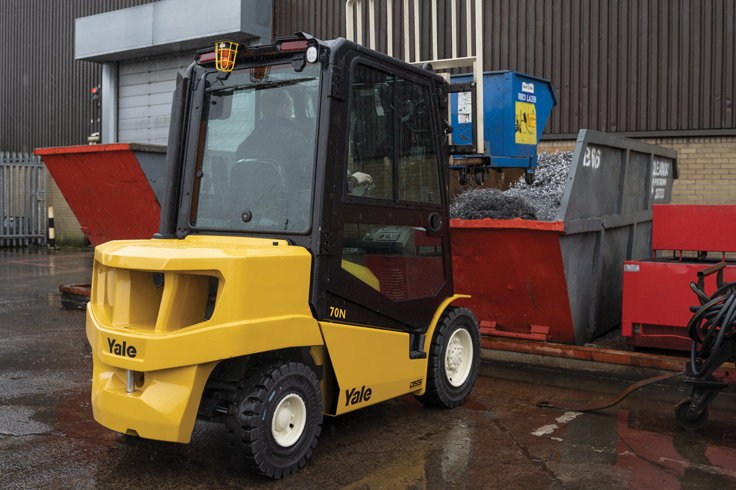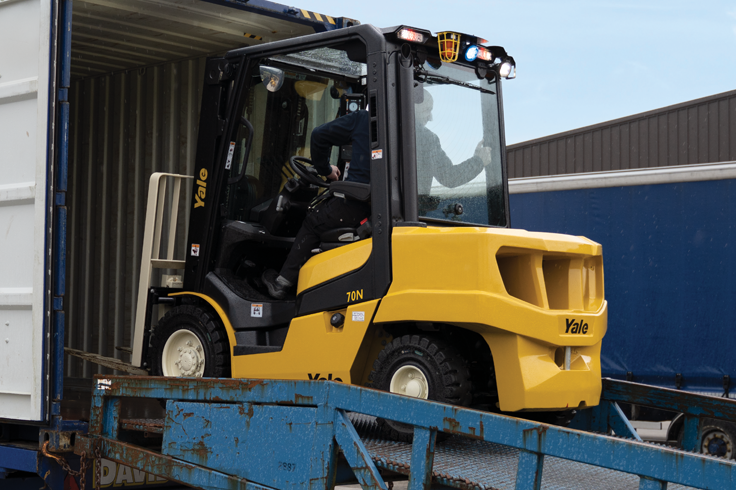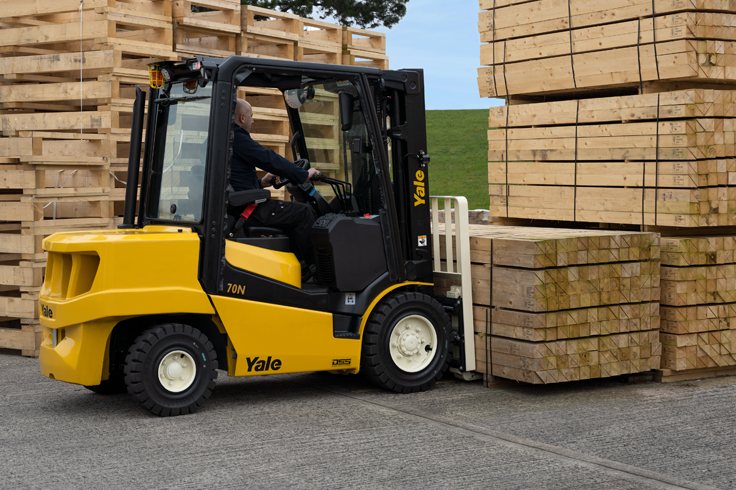 Operator-centric design
Enhanced all-around visibility
Safety features that boost productivity
Proven dependability and low cost of operation
Models: GP40-70N
Capacity: 4000-7000lbs
Load Weight: 7000lbs
Max Lift Height: 200
Environment: Outdoors
Power: LPG, Diesel
Primary Task: Lifting and Stacking, Towing
Chemicals & Plastics
Building Materials
Metals
Paper & Packaging
Ports & Terminals
Wood
Details
Easily configured to match your requirements
Your operation can't settle for a one-size-fits-all approach to material handling equipment. The highly configurable Yale® Series N allows you to build a truck specifically for your operators, your application and your business. Available in a 4,000–7,000 lb. capacity range, the Series N can be easily customized to match your unique requirements—raising the bar for what you expect from a lift truck.
Equipment Type

Internal Combustion Pneumatic Tire Forklift Trucks
An ergonomic compartment strategically engineered around comfort and convenience, the Yale® Series N was designed to make it easy for operators to get in and out of the truck, stay comfortable and sustain less stress while seated and operating the truck.
Convenient entry and exit – A large, strategically located step, large grab handle, contoured hood and flip up armrests help make it easy for the operator to get in and out of the truck.

Spacious operator compartment – Greater head clearance and ample foot space offer the operator an opportunity to find a comfortable position and stretch their legs.

Adjustments made easy – An adjustable steer column, a foot activated, hand-released park brake and up to 25% more fore & aft seat adjustability than the leading competitor, 1 help minimize operator lean and strain on the back when in the seated position.
More inventory and tighter spaces mean greater challenges moving goods, but operations can't allow productivity to slide. The Series N combines enhanced all-around visibility with innovative technology to help support operator awareness, confidence and efficiency.
Excellent through mast visibility – A low dash and wide mast combined with strategically routed chains and hoses help enhance visibility of the fork tips and load when picking, placing or traveling forward.
Unobstructed upward view – A thick, laminated clear glass roof option provides an unobstructed upward view to support precision and productivity while picking and placing loads at height.
Innovative technology – A fork laser level option allows the operator to quickly and easily see where the fork tips will enter a pallet load helping reduce product and facility damage.
Maintaining a strict focus on lift truck best practices can be a challenge, but with so much riding on lift truck operator performance, building and supporting safe, effective habits through proper, comprehensive training is critical. The Series N goes a step further, with smart features and technology that offers alerts and automated assistance to operators in real time.
Dynamic Stability System (DSS) - An innovative, maintenance-free system, standard on all Series N trucks that promotes operating best practices by implementing truck performance limitations to help minimize forward and sideways tip-overs. 2
Operator Assistance Systems (OAS) - A suite of options designed to support the behavior and awareness of both operators and pedestrians to promote safe practices and help prevent facility and product damage.2
Harsh duty cycles and challenging environments can threaten uptime, and you need equipment proven to stand up and deliver, shift after shift. The Series N helps protect your bottom line with features engineered to minimize unplanned downtime, simplify service and lower fuel costs.
Dependable high-performance technology - Engineered with field proven features such as an aluminum transmission, robust steer axle with tapered king pin roller bearings and O-ring face seal hydraulic connections for long term reliability and low maintenance.
Heavy-duty industrial engine - EPA certified Yanmar engine featuring gear-driven timing along with extended maintenance intervals help reduce the amount of maintenance needed and technician labor required per truck.
Low cost of operation - Proven reliability and durable components such as on-demand cooling with reversing fan, on-demand hydraulic system and oil-cooled wet disc brakes help minimize downtime and reduce maintenance costs.
---