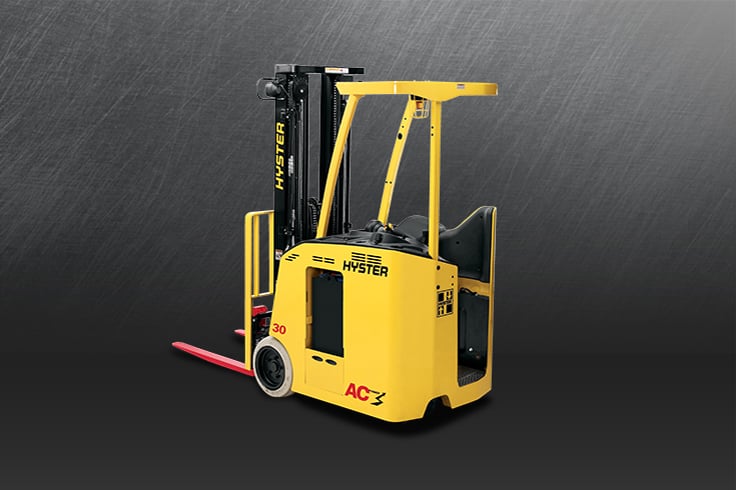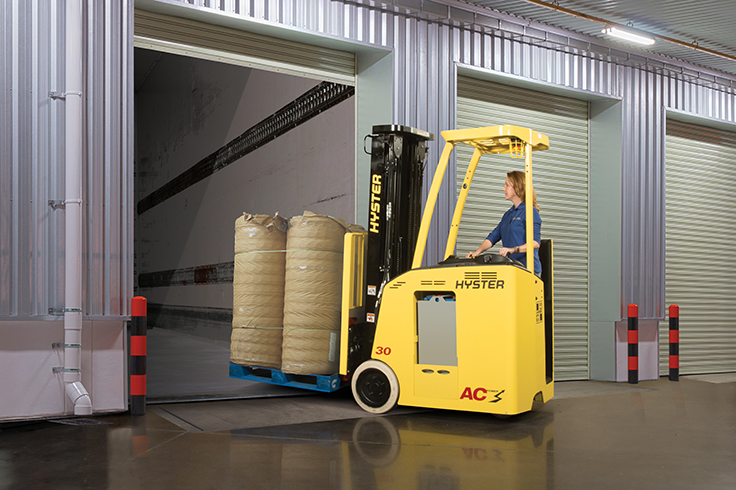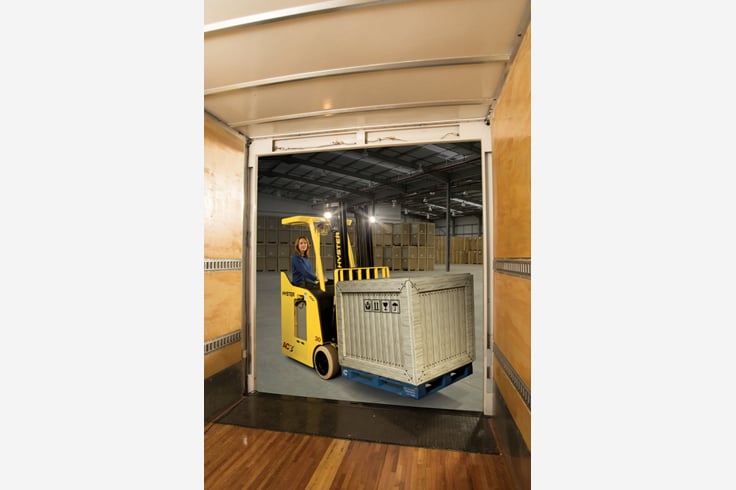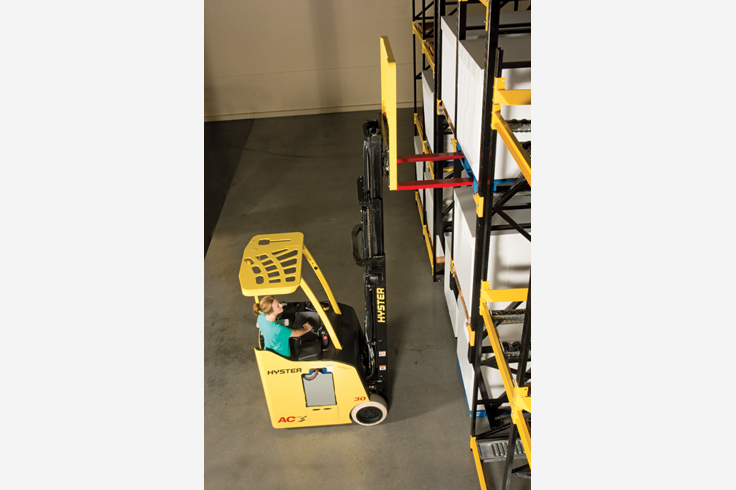 Decreased downtime
Built for comfort
Enhanced productivity
Models: E30-40HSD3
Capacity: 3000-4000lbs
Load Weight: 4000lbs
Max Lift Height: 283
Environment: Indoor
Power: Electric
Primary Task: Lifting and Stacking
Auto Manufacturing
Beverage
Chemicals & Plastics
Food
Logistics
Details
Navigating a warehouse efficiently requires speed, maneuverability and handling equipment you can trust, so you need a lift truck to help you get the job done. The E30-40HSD3 is designed to move around and operate in tight spaces easily. Take the stress out of working in precarious situations with the Hyster Three-Wheel electric forklift, designed to handle these conditions seamlessly.
The Hyster E30-40HSD3 is a high-quality electric forklift renowned for its durability and performance. With a lifting capacity spanning from 3,000 to 4,000 pounds, it excels in many industrial applications. Operating on electric, emission-free power, this model is ideal for indoor use.
This forklift is built to last. Additionally, the ergonomic operator compartment ensures driver comfort while in use. The E30-40HSD3 incorporates advanced features like precise hydraulic controls, regenerative braking and an intuitive display for efficient material handling.
MORE ACTION, LESS RE-ACTION
Work can be hard. And gritty. But maneuvering and maintaining your materials handling equipment shouldn't be. You need a lift truck that consistently and efficiently maneuvers in and around tight spaces and, at the end of the shift, one that is easily cleaned and maintained.
Equipment Type

3 Wheel Electric Forklift Trucks
When a job gets dirty, so does your truck. But that's no challenge for this forklift. With sealed electrical connectors as well as enclosed master drive units and motors, you know that harmful dirt and grime will stay out of the components and washing down this truck will be worryfree. The AC traction and hoist motors eliminate the need for commutating brushes, and can reduce maintenance requirements.
BRUSHLESS AC TECHNOLOGY
Eliminates motor brushes
Requires no periodic maintenance
Eliminates scheduled downtime and the cost for parts and service
Eliminates the service requirements created by brush wear dust
Does away with the commutator and its related parts and service costs
The E30-40HSD3 three-wheel stand forklift is an operator's dream. Easy on/off access, low step height and a spacious suspended floor help to alleviate fatigue and can increase productivity. Your operators will be in control with fully proportional travel, lift/lower, tilt, and sideshift functions.
Suspended Hyster Intelligent Ride Floor System reduces up to 65% of the shocks and vibrations transmitted to the operator's feet, back and legs from dock plates, expansion joints, and other irregular floor surfaces. The maintenance-free design requires no weight adjustment from the operator.
More usable floor area than leading competitors and no pedals to stand on to enable travel allow operators to adjust posture freely.
The Hyster E30-40HSD3 three-wheel configuration provides a small turning radius — turning in smaller aisles and dock operations than a sit-down unit. Your operators can save valuable time and be more productive when using one truck that can handle the big and small spaces.
VISTA™PLUS mast offers up to 40% more visibility than leading competitors. Furthermore, we design our overhead guards to be even tougher than ANSI standards require, proving Hyster Company to be proactive regarding operator safety.
Hyster patented Operator Sensing System trains operators to maintain proper position within the compartment during travel, giving them one less thing to worry about. In addition, the maintenance-free sensor system doesn't require cleaning or adjustment.
---