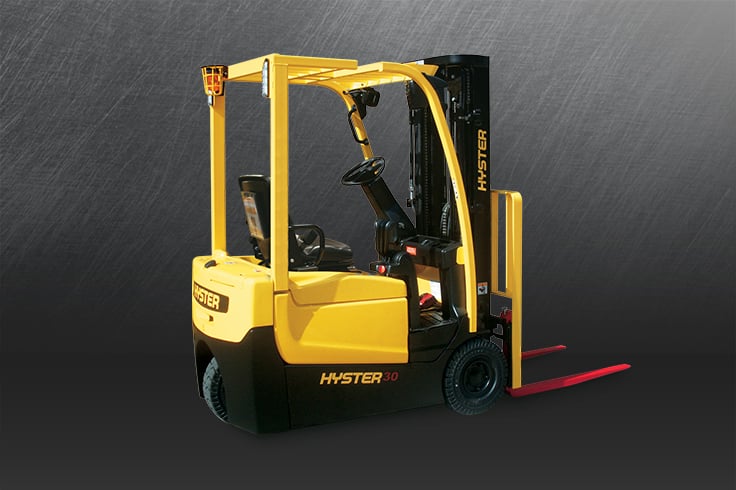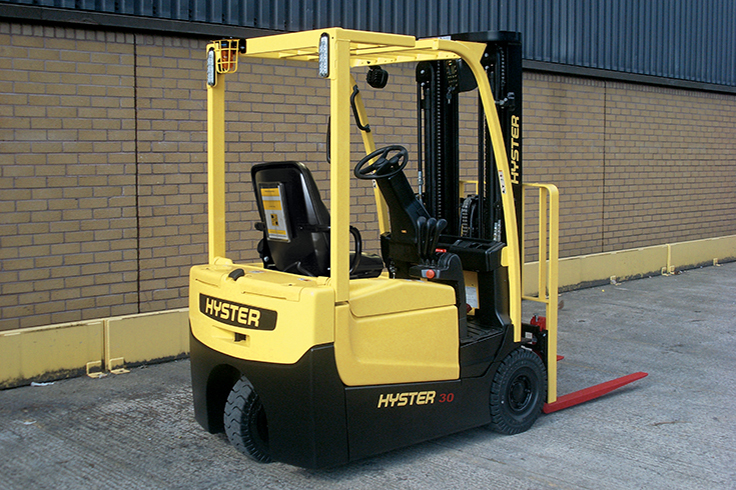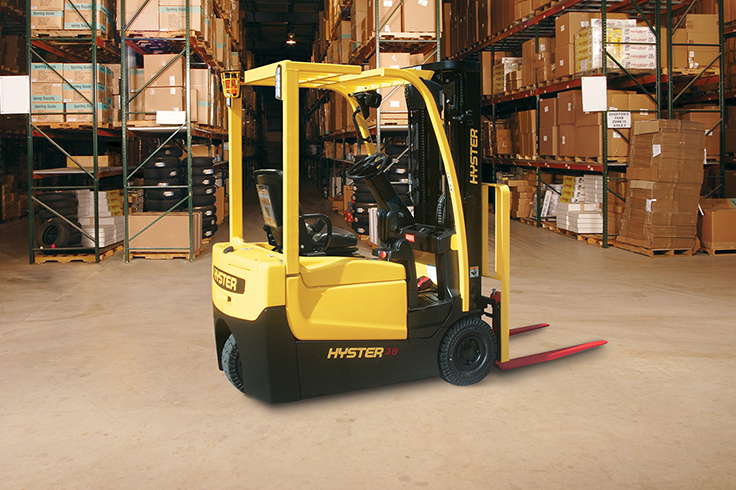 Decreased downtime
Low cost of operation
Built for comfort
Enhanced productivity
Models: A25-30XNT
Capacity: 2500-3000lbs
Load Weight: 3000lbs
Max Lift Height: 192
Environment: Indoor
Power: Electric
Primary Task: Lifting and Stacking, Towing
Beverage
Chemicals & Plastics
Logistics
Details
The A25-30XNT series consists of Hyster® 3-wheel electric forklift trucks that allow you to operate in applications with limited space. This forklift ensures you have dependable equipment to help your team efficiently complete tasks. The vehicle is outfitted with ergonomic designs to keep the operator comfortable and safer while working.
ERGONOMIC FORKLIFTS DESIGNED FOR PRODUCTIVITY AND MANEUVERABILITY
The A25-30XNT series can maneuver in tight spaces and move pallets in containers and warehouses, delivering a cost-effective solution to get the job done where space is at a premium.
Equipment Type

3 Wheel Electric Forklift Trucks
Downtime for service requirements is minimized, thanks to features such as maintenance-free AC motors, DIN wheel nuts, self-adjusting service brakes and gear-driven steering (no chain – no lubrication required), as well as extended service intervals.
AC motor technology allows the truck to work longer and more reliably, reducing downtime.
Hall-Effect sensors are virtually maintenance-free, making the truck more reliable and decreasing downtime.
Auto Deceleration System automatically slows the truck when the operator's foot is removed from the accelerator, reducing brake usage and associated brake maintenance requirements.
Proven components, such as O-ring face seal fittings and sealed electrical connectors, as well as a CANbus communications network provide long term reliability.
A25-30XNT trucks provide tremendous flexibility to customize the truck's hydraulic and traction performance to your application. A trained Hyster technician can maximize your truck's performance, whether it requires extended battery shift life, aggressive performance or fast travel speeds for long hauls.
Pacesetter Vehicle System Manager (VSM) continuously monitors and controls all major truck functions for efficiency and proper operation.
Durable, quality components mean long-term reliability and lower maintenance costs. Virtually maintenance-free components, such as AC motors, allow for 500-hour service intervals.
Thermal Management System protects the motors and controllers, leading to reduced maintenance costs.
Fast delivery of diagnostic information allows precise troubleshooting, easy maintenance planning and lower costs.
This truck has been intelligently designed, focusing on the operator. Generous foot space, an intuitive pedal arrangement and a low step height offer a comfortable working space. This means on/off access and driving in reverse cause less fatigue over long shifts.
Operator compartment features a standard non-suspension vinyl seat. Full suspension seats are available, which provide optimum operator comfort and a smooth ride.
Class-leading low noise level of 59dB(A) reduces the stress on operators, ensuring that they are comfortable for longer amounts of time.
Optional adjustable mini-lever module armrest with built-in hydraulic controls, integrated directional control, power disconnect button and horn offers added comfort and control.
Display mounted in the upper right-hand corner of the overhead guard keeps the operator's field of vision clear and provides at-a-glance information.
The A25-30XNT is the most compact truck Hyster offers in its class, with the tightest turning circle for excellent maneuverability in working aisles. This allows the operator to move faster with more confidence in restricted spaces or congested loading/unloading bays. An overall truck width of 39.2 inches facilitates block stacking in tight spaces.
24-volt rear-wheel drive with AC motors throughout provides smooth acceleration and excellent travel, torque and lifting performance, delivering efficient and productive load handling.
VISTA™ mast offers generous visibility allowing the operator to work quicker when picking and depositing loads.
With the Extended Shift feature turned off, the truck delivers a competitive top speed of 7.5 mph (rated load) and lifting speed of 59 ft/min (rated load).
---